WNBA best Player Prop Bets, Trends, Odds, Stats, and Predictions for Friday, July 28th.
In case you missed my last article, I broke down the betting trends, odds, and stats for straight bets today. There are three games on the WNBA slate today and I will discuss the best player prop plays and odds. If you're planning to bet on today's games, all three will be televised on ION. The WNBA League pass is available to viewers who wish to catch all of the WNBA games. If you are looking for the best betting odds, stats and analysis, here is some information to know.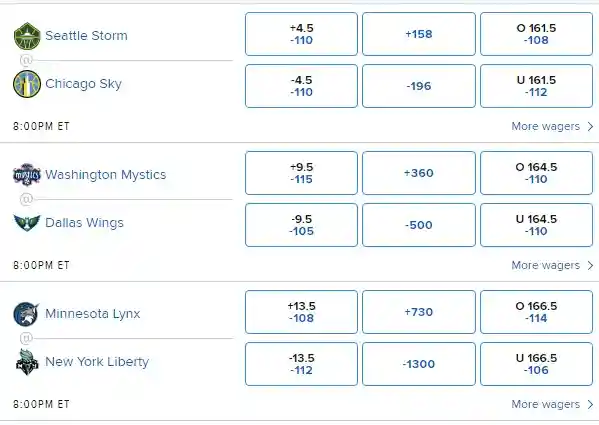 Jonquel Jones OVER 7.5 Rebounds (-140)
New York Liberty Forward, Jonquel Jones is playing basketball on another level. Jones, 29, has four straight double doubles, against Atlanta, Seattle, Indiana, and Washington. Her stat line against the Dream last night, 24 minutes, 19 points, and 13 rebounds. In the last four games, Jones is averaging 13 rebounds a game, and had a season high (17), against Seattle, on Tuesday.
The former MVP is averaging 7.4 rebounds in 23 games played this season. Jones hit over 7.5 rebounds in 5 total games in July, and 6 in June. In the last ten games, Jones is averaging 8.4 rebounds a game, and 22.7 Points + Rebounds. Minnesota Lynx Star, Napheesa Collier is out for tonight's game against New York, and averages 7.9 rebounds a game. Behind Collier, Minnesota has a front court of Dorka Juhasz, Diamond Miller, and Jessica Shepard, who is back from illness. New York is second in rebounds (37.7), and Minnesota ranks 6th (34.4). I expect Jones, along with Breanna Stewart, to be a force down low, with Collier out.
Jonquel Jones has entered the chat @jus242 averaged 18.7 PPG, 10.3 RPG, and 1.7 BPG to lead the @nyliberty to a 2-1 week record, earning her first Eastern Conference Player of the Week honor this szn #MoreThanGame pic.twitter.com/YKery8gg8q

— WNBA (@WNBA) July 25, 2023
Sabrina Ionescu OVER 6.5 Assists (-130)
Sabrina Ionescu messed around and got a triple double in the Liberty's comeback win over the Storm

12 points
12 rebounds
12 assists

The Liberty trailed by as many as 18 and won pic.twitter.com/8pA7PO73LA

— ClutchPoints (@ClutchPoints) July 26, 2023
The New York Liberty are playing excellent team basketball, and play at a high tempo. New York had 23 assists last game, in which nine of them were from Ionescu. The Liberty had four players with points in double figures last night, which has been the trend over their four-game win streak. Liberty guard, Courtney Vandersloot, is out for tonight's game, and leads the WNBA in assists per game (8). Sabrina Ionescu currently ranks 7th in the league in assists per game (5.9), and the Liberty rank first in assists (24.4).
New York is playing a Minnesota Lynx team, who rank 11th in 21 opponent assists per game. Minnesota allows opposing teams to shoot 36.3 percent beyond the arc, and 45.4 percent from the field.
Sabrina Ionescu hit over 6.5 assists in two straight games, and 5 games in July. The Liberty guard had 9 assist last night against Atlanta, and 12 against Seattle. With Vandersloot out, I expect Ionescu to create plays for her teammates, and continue that high tempo play. Both Breanna Stewart, Jonquel Jones, and Betnijah Laney are all playing at a high level, and will utilize screens with Ionescu.
Satou Sabally OVER 9.5 Rebounds (-118)
SAAATOU SAAAABALLY @satou_sabally | #VoltUp pic.twitter.com/WKFlP2nq71

— Dallas Wings (@DallasWings) July 26, 2023
Satou Sabally, of the Dallas Wings is averaging 9.3 rebounds in 23 games this season. Sabally, 25, is coming off back-to-back double doubles, against Connecticut and Los Angeles. The Washington Mystics will still be without Foward, Elena Delle Donne, and rank 10th in rebounding per game (33). Dallas is the leading team in rebounding this season (39.5) and allow the fewest rebounds per opponent (32.5).
The Dallas forward hit over 9.5 rebounds eight total times in June, and three times in July. In the prior matchup against Washington, Sabally scored 18 points and grabbed 14 rebounds. In what as a low scoring affair (75-74), Howard and Sabally outrebounded Delle-Donne and Austin, 27-21. Sabally didn't stop in her second game against the Mystics. She grabbed 15 rebounds, including 11 defensive boards. With Elena Delle Donne out with an injury, Washington does not have a ton of depth behind center, Shakira Austin.
Kahleah Copper OVER 20.5 Points (-113).
SHE JUST DIFFERENT.

Congrats on a new career high in points, @kahleahcopper pic.twitter.com/6EcfsfTrdB

— Chicago Sky (@chicagosky) July 26, 2023
It's safe to say Kahleah Copper is one of the best players in the WNBA right now. In 22 games, the Copper, 28, is averaging 18.7 points, 7-15 field goal attempts, and is shooting 41.3 percent from the three-point. She is coming off career-highs in points, 29 against Seattle Saturday, and 37 against the Aces, Tuesday. In the last five games, the Sky guard is averaging 16.8 field goal attempts, and 29.3 minutes per game. The guard ranks 10th in the league in scoring (18.7), and 5th in field goal attempts per game (15.5). Kahleah plays around 31 minutes a game, which is a Chicago team high.
The Chicago Sky are matched up tonight against a Seattle Storm team who allow opponents to shoot a league high 37.5 percent from downtown, and 46.4 percent from the field. Seattle is in the midst of a miserable ten gaming losing streak, and Copper is coming off two career games. The Sky star had 37 points, against Las Vegas, who is the top ranked team in the league. Copper is shooting 49 percent from the field, and 35 percent from the three the last two games. Even more impressive, Kahlea Copper is 20-22 from the three-throw line in her last two games.
Sara Jane Gamelli is a full-time Sportswriter at BallisLife, and Sports Content Creator on Twitch. She has a focus on the NBA, WNBA, NCAA Basketball, and the NFL. Sara Jane currently resides in Connecticut with her Cat and Dog. She is a Boston Celtics, Boston Bruins, New York Yankees, and New York Giants fan. SJ has her undergraduate degree from the University of Connecticut in Economics.
NATIONAL PROBLEM GAMBLING HELPLINE
1-800-522-4700
The National Council on Problem Gambling operates the National Problem Gambling Helpline Network. The network is a single national access point to local resources for those seeking help for a gambling problem. The network consists of 28 contact centers that provide resources and referrals for all 50 states and US territories. Help is available 24/7 and is 100% confidential.
The post WNBA Daily: Player Prop Betting Odds & Stats appeared first on Ballislife.com.