The WNBA is halfway through the season, and tonight, we will take a look at the future betting odds for the WNBA Championship.
2023 WNBA Championship Betting Odds
The WNBA All-Star break has come and gone, as we enter the second half of the WNBA Season. The 2022 reigning champs, the Las Vegas Aces, are currently the favorites to with the 2023 WNBA Title at -310. The New York Liberty have the next best odds at +270, and interestingly enough, the Connecticut Sun, tied for the second-best record, have +3000 odds to win it all. In this article, I will break down the top four teams, and a few dark horse organizations that could win the championship. If you are looking for the best betting odds, stats and analysis, here is some information to know.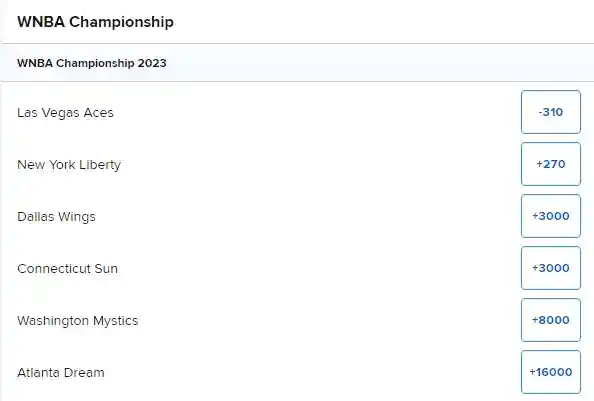 Las Vegas Aces (-310)
The Las Vegas Aces are the 𝟮𝟬𝟮𝟮 𝗪𝗡𝗕𝗔 𝗖𝗛𝗔𝗠𝗣𝗜𝗢𝗡𝗦 #RaiseTheStakes pic.twitter.com/KaV2cijHYf

— Las Vegas Aces (@LVAces) September 18, 2022
Record: 23-2, 12-0 Home, 11-2 Away
PPG: 94.1 (1st)
Net Rating: 19 (1st)
Offensive Rating: 114.8 (1st)
Defensive Rating: 95.8 (1st)
RPG: 35 (4th)
3 PT %: 37.6 (2nd)
FG %: 50.3 (1st)
STL: 8 (2nd)
BLK: 5.2 (T-1st)
FT %: 81.8 (3rd)
OPP PPG: 78.7 (2nd)
Remaining Schedule:
Home: Atlanta, Washington, Atlanta, New York, Los Angeles, Washington, Seattle, Phoenix.
Away: New York, Dallas, Atlanta, Chicago, Washington, New York, Phoenix.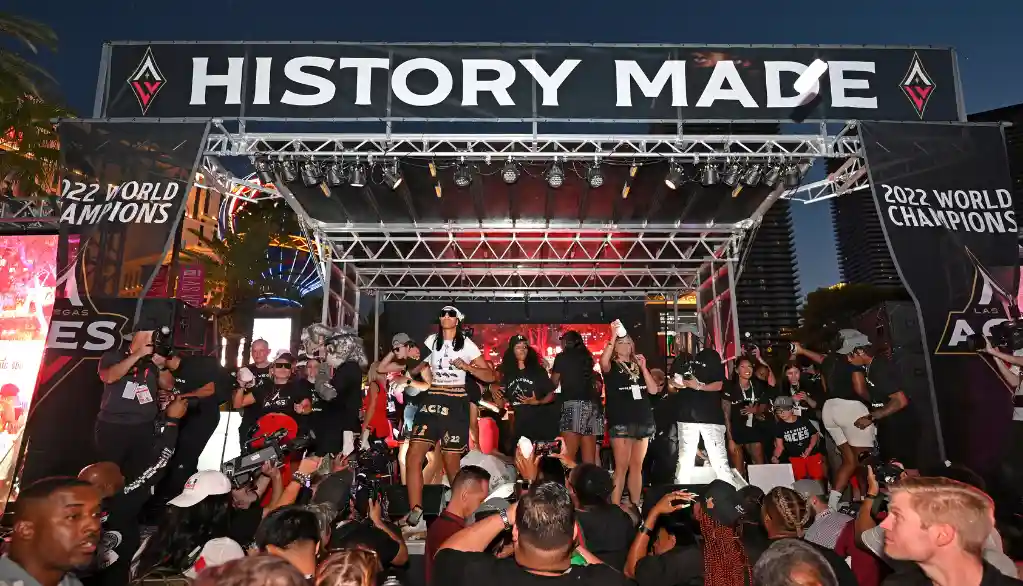 The second half of the 2023 WNBA is in full swing, and the Defending Champions are favored to win it all again this year, amongst WNBA bettors. Las Vegas stands at 23-2, and WNBA fans are eager to see them continuously make WNBA history. From July 9 to July 22nd, Las Vegas tied for history, and hit five consecutive games with a 15-point differential. During that span, there was a 102 total point differential in five games, which averages out to 20.4 The last team to re-peat as Champions were the Los Angeles Sparks in 2001/2002, and the Aces are chasing the Phoenix Mercury for the best record in WNBA History. The Phoenix Mercury currently holds the league record at 29-5, which was back in 2014.
23-2

Protected The House #ALLINLV pic.twitter.com/UobogEwAti

— Las Vegas Aces (@LVAces) July 31, 2023
Why the Aces can win it all.
In basketball, net rating often means a combination of offensive, and defensive ratings. In another words, it's the offensive minus the defensive rating. The Las Vegas Aces have a net rating of 19, which is first in the league, with the Liberty trailing in second (6.3). This statistic should show WNBA bettors why the Aces are not only the best team record wise; however, they are the best team on both sides of the court. This large margin is absolutely frightening and gives a good picture how efficient this team is.
The Aces had four All-Stars represent at this year's game, including A'ja Wilson, Chelsea Gray, Jackie Young, and Kelsey Plum. The Aces veteran star, Candice Parker is indefinitely out with a foot injury, which leaves Vegas with a thin bench. With Head Coach, Becky Hammon, the Aces have been an unstoppable force. Besides Alysha Clark, the Aces will be tested with their lack of depth in the playoffs. If you are betting on the WNBA, the Aces have a high chance of repeating as champions.
New York Liberty (+270)
Best start in franchise history #LIGHTITUPNYL pic.twitter.com/wk2jfNcavb

— New York Liberty (@nyliberty) July 26, 2023
Record: 19-6, 10-4 Home, 9-2 Away
PPG: 88.6 (2nd)
Net Rating: 6.8 (2nd)
Offensive Rating: 107.8 (2nd)
Defensive Rating: 101 (7th)
RPG: 37.9 (2nd)
3 PT %: 38 (2nd)
FG %: 45.4 (2nd)
STL: 6.6 (8th)
BLK: 4.6 (5th)
FT %: 83.3 (1st)
OPP PPG: 82.5 (5th)
Remaining Schedule:
Home: Las Vegas(twice), Chicago, Connecticut, Los Angeles, Washington
Away: Los Angeles, Minnesota, Indiana, Las Vegas, Phoenix, Connecticut, Minnesota, Chicago, Dallas
The New York Liberty got off to the best start in franchise history at 17-5 and have a "super team," comprised of Sabrina Ionescu, Jonquel Jones, and Breanna Stewart. New York is one of the top rebounding teams, comprised of elite shooters. Their offensive rating of 107.8 ranks second in the league, and 37.2 percent of New York's points are three-pointers. Guard, Sabrina Ionescu ranks first in the league in three-pointers made (3.5), and third in three-point percentage (44). The Liberty set an WNBA record 44 points in the first quarter, against the Indiana Fever, and Breanna Stewart continues to make history. WNBA bettors have the Liberty at +270 odds to win the WNBA Championship.
Check out our top 10 plays from the 1st half of the szn Presented by @CarMax #SEAFOAMSZN pic.twitter.com/rgbid297Gw

— New York Liberty (@nyliberty) July 31, 2023
Why the Liberty can win it all.
Through 25 games, Stewart, 28, is the second player in Liberty Franchise, to score 10 + 25-point games in a season. Stewart is an MVP candidate, and is the second player in WNBA History to reach 500 points, 200 rebounds, and 50 3-pointers made through 25 games. If you're betting on the WNBA, you cannot count out stewie and the Liberty odds.
The New York Liberty has the most appearances in the WNBA finals (four), without actually winning a title. The Liberty finished under .500 the past two seasons, in which New York lost in the first round of the playoffs. In their last win against the Sparks, 87-79, the Liberty became the third team in the WNBA to have three games with at least 15 three-pointers.
The signing of former MVP, Jonquel Jones, along with Courtney Vandersloot has been key for the Liberty. Vandersloot, 34, is tied for first in assists with Connecticut's Alyssa Thomas. Jones, in a rhythm with her new team, is coming off six straight games with rebounds in double-figures. In the month of July, the Liberty Forward had a double-double in four straight games and has points in double figures in all July games but three. New York has key players in Betnijah Laney, Marine Johannes, and Kayla Thorton. New York has been inconsistent at times, and known to blow some larger leads. Though New York doesn't have the best defense, they play high tempo basketball, and are a force on the offensive end. If you're betting on the WNBA, New York has a high chance to win it all, considering the odds.
Dallas Wings (+3000)
Nothing like a locker room celebrating the first triple double recorded in a #DallasWings uniform by @satou_sabally #VoltUp pic.twitter.com/GmTGOsTdO7

— Dallas Wings (@DallasWings) July 29, 2023
Record: 14-11, 9-3 Home, 5-8 Away
PPG: 86.2 (3rd)
Net Rating: 4.4 (4th)
Offensive Rating: 105.2 (3rd)
Defensive Rating: 100.8 (5th)
RPG: 39.9 (1st)
3 PT %: 22.9 (12th)
FG %: 43.6 (6th)
STL: 7.4 (6th)
BLK: 4.2 (7th)
FT %: 80.2 (6th)
OPP PPG: 82.6 (6th)
Remaining Schedule:
Home: Chicago (twice), Las Vegas, Connecticut, Minnesota, Indiana, New York, Seattle.
Away: Seattle, Connecticut, Washington, Minnesota, Phoenix, Indiana, Atlanta.
Why the Wings can win it all.
This is where things get interesting if you plan on betting on the WNBA. After the Las Vegas Aces and New York Liberty, the odds change dramatically at +3000 odds for Dallas. First the Detroit Shock and Tulsa Shock, now the Dallas Wings, the franchise seek their first championship since 2008 (Detroit Shock). Dallas stands at 14-11, after two first round playoff exits in two consecutive seasons. The Wings won five consecutive games in July, including impressive wins against New York, and Las Vegas. Dallas beat the Washington Mystics by 28 points, the largest margin out of any game this season. Dallas ranks first in rebounds, and third in total offense. On the contrary, the Wings rank last in three-point percentage (22.9).
Super teams are not a concern for @Arike_O and the @DallasWings pic.twitter.com/ktbSUobEsd

— espnW (@espnW) July 27, 2023
When it comes to betting, specifically WNBA betting, it's about who's hot at the right time. The Dallas Wings are the fourth best team, and have a net rating of 4.4, which is directly below the Connecticut Sun. Besides the Las Vegas Aces, the Liberty, Sun, the Wings hover similarly in net rating, where it drops off with the Washington Mystics. This Dallas offensive has four heavy hitters, in Arike Ogunbowale, Satou Sabally, Natasha Howard, and Teaira McCowan. It's no secret that Dallas has incredible size and could be a problem for teams that play small. Though the WNBA betting odds are higher for Dallas, Latricia Trammel has a rotation that runs deep, and Satou Sabally had her first career triple double for Dallas. The Wings will need to step up their perimeter shooting, along with free-throw percentage.
Connecticut Sun (+3000)
sending you all some Monday Motivation with the 4th Alyssa Thomas triple-double of the year, recapped

17 PTS | 14 REB | 11 AST#CTSun | #ForgedByFire pic.twitter.com/tkVOzM1AI5

— Connecticut Sun (@ConnecticutSun) July 31, 2023
If you are betting on the WNBA, the odds for the Connecticut Sun to win it all maybe be perplexing. The Sun are 18-7, and rank third in the league. Connecticut has a +5.1-point differential (3rd) and ranks first in opponent points per game (78.9). The Sun, led by Head Coach Stephanie White, hold opponents to 31.1 three-point percentage, and rank fifth in three-point percentage (35.6). Connecticut's net ranking hangs below New York at 5.9 and is one year removed from the WNBA Finals. For a team that ranks third in the WNBA, and has five consecutive playoff appearances, +3000 odds seem like a steal if you plan to bet on the WNBA. The Sun rank second in defensive rating at 97.8.
Record: 18-7, 8-4 Home, 10-3 Away.
PPG: 84 (5th)
Net Rating: 5.9 (3rd)
Offensive Rating: 103.6 (4th)
Defensive Rating: 97.6 (2nd)
RPG: 33.9 (8th)
3 PT %: 35.6 (5th)
FG %: 44.3 (3rd)
STL: 8.3 (1st)
BLK: 3.9 (8th)
FT %: 76.5 (11th)
OPP PPG: 78.9 (1st)
Remaining Schedule:
Home: Minnesota, New York, Los Angeles (twice), Dallas, Phoenix, Indiana, Chicago
Away: Indiana, Seattle, Phoenix, Dallas, Chicago, Washington, New York.
ROSTER UPDATE: Connecticut Sun Sign Bernadett Határ

: https://t.co/9QOLvFmy0U pic.twitter.com/fpm5ayErpS

— Connecticut Sun PR (@CTSunPR) July 26, 2023
Why the Sun can win it all.
If you're plan to bet on the Connecticut Sun winning the Championship, +3000 odds seem like a great value. Losing Foward Brionna Jones with a ruptured Achilles was a huge loss, however, DeWanna Bonner, Alyssa Thomas, and Tiffany Hayes have stepped up in a big way. Alyssa Thomas recently recorded her sixth career triple-double, and Bonner has back-to-back 30-point games (most in Connecticut Sun franchise history). Since Jones injury on June 20th, the Sun have gone 12-5. Connecticut has notable wins over Dallas, Las Vegas, and Atlanta. Over the last four games, the Sun defeated the Dream twice, and Dallas on the road. Out of the next fifteen games, Stephanie White's team only faces five teams who have a record of .500 and up. Connecticut has depth and has a serious chance of retaining their spot in the East.
Dark Horse teams: Minnesota Lynx, Washington Mystics
Sara Jane Gamelli is a full-time Sportswriter at BallisLife, and Sports Content Creator on Twitch. She has a focus on the NBA, WNBA, NCAA Basketball, and the NFL. Sara Jane currently resides in Connecticut with her Cat and Dog. She is a Boston Celtics, Boston Bruins, New York Yankees, and New York Giants fan. SJ has her undergraduate degree from the University of Connecticut in Economics.
NATIONAL PROBLEM GAMBLING HELPLINE
1-800-522-4700
The National Council on Problem Gambling operates the National Problem Gambling Helpline Network. The network is a single national access point to local resources for those seeking help for a gambling problem. The network consists of 28 contact centers that provide resources and referrals for all 50 states and US territories. Help is available 24/7 and is 100% confidential.
The post WNBA Betting: Future Championship Betting Odds appeared first on Ballislife.com.